Finding the perfect gift for a biker can be very stressful. But it becomes even more tricky when shopping on a budget. After all, motorcycle accessories like leather jackets or helmets are often expensive.
Buying the right cheap gift for them will require getting creative. You'll need to think about their personality and what knickknack or similar item could suit it. It could be something simple like a shot glass or a model motorcycle. But make sure it's a gift that will put a smile on their face.
We are here to help out by choosing 11 biker-themed items. Let's see whether one of these gifts could be a suitable option for your favorite biker.
1. VORCOOL Vintage Iron Motorcycle Model
Our first gift idea is a bronze old-school motorcycle model. This model could be an excellent choice for a biker who likes motorcycles with a vintage look. They could use it as decoration in a bar, bike shop, or at home.
You can expect it to remain there for years with its long-lasting bronze construction. It'll be a constant reminder of their many trips on the open road.
Older bikers who can't ride anymore might enjoy it as a piece of nostalgia for a simpler time. If the rider has kids, it might help create a mutual love of motorcycles.
2. Creator's Cove Motorcycle Novelty Shot Glass
Shot glasses are always a good cheap gift idea. This one has a detailed motorcycle decal on the front, which any biker will appreciate. The phrasing around makes it a great gag present for your brother, uncle, grandpa, or any other known family snorer.
Its ceramic design provides some durability to survive the occasional drunken mistake. The product's dishwasher-safe to ensure easy clean after usage. It's everything a person could want in a novelty shot glass.
3. Desperate Enterprises Indian Motorcycle Tin Sign
This tin sign is a perfect way to help a biker add some motorcycle history into their lives. It'll provide a retro feel and some heritage to their homes, bars, dorms, man caves, or garages.
You can even personalize this gift based on their taste as it comes in 13 different variations. Each one has its distinct vibe, which makes this option the most adaptable on our list. Finding one capable of matching your friend's personality shouldn't be much trouble.
Click here to see more on Amazon.
4. Guardian Bell Motorcycle Luck Gremlin Riding Bell
Are you looking to provide a biker with some luck on their trips? Buying this riding bell could be a perfect gift to show them how much you care about their well-being. It could turn into their treasured, lucky souvenir.
Other bikers will enjoy its phrasing, "This Bike is Protected by The Good...And a Gun". It evokes an outlaw vibe, which could match their personality to a tee. Its lead-free pewter design should survive life on the road without much issue.
You'll also get a few accessories with purchase, including a legend card. This item might bring a chuckle or two from them when opening their gift.
5. Cacukap Vintage Motorcycle Bottle Opener
This motorcycle bottle opener is an excellent gift for bikers who love cracking open beer. Its rustic, traditional design would be perfect for bringing some style to a biker's keychain.
Carrying it around won't be much of an issue, either. It'll fit into a wallet and shouldn't add much weight with its lightweight design. Its rust-resistant construction will ensure it's opening beer and soda bottles for many, many years.
Click here to see more on Amazon.
6. GodEagle Skull Punk Rocker Motorcycle Patches
Do you have a biker friend who's jacket needs a little color? This "punk rocker" patch could be what they've been missing. Its well-crafted, colorful, skull rider design will elevate their jacket to a whole new level.
But it's not only meant for jackets. The patch can be ironed or sewed onto hats, shoes, shirts, or any type of clothing. It ends up being a versatile gift with a lot of excellent potential uses.
Click here to see more on Amazon.
7. Nice Tagg Blue Yamaha Tag Keychain
Any biker with a Yamaha motorcycle will love this keychain tag. It's a simple but practical gift that shows you put some thought into the present. You noticed what kind of bike they ride around all the time.
This keychain tag could work for other types of bikers, as well. It could match their jacket, helmet, or bike color to offer a sense of coordination. They might be a Yamaha fan who secretly wants one but can't afford it.
In any case, please make sure they aren't fans of a rival brand before buying it. Getting one for a Harley rider could be a disaster.
Click here to see more on Amazon.
8. Indie Ridge American Flag Motorcycle Face Mask
Face masks are an essential piece of a biker's repertoire. It gives them a "wild west" look to ensure they always look cooler than the rest of us. Indie Ridge's American flag face mask cultivates this sense better than most.
It's a practical gift, too, with it serving many different purposes. The breathable material makes it a perfect item to wear when snowboarding, skiing, ATVing, fishing, and hiking. It'll do an excellent job keeping their face warm and safe from those cold winds around them.
Click here to see more on Amazon.
9. KtechMedia "Live Free Ride Hardcore" Novelty Coffee Mug
Bikers love to drink coffee in the morning like everyone else. Why not make these times a bit more fun with a novelty mug? No other option is more capable of meshing with their aesthetic than this one.
The mug's skull design evokes the patented rebellious attitude of a biker's personality. Its slogan is quite funny, making it a great Father's Day or Christmas gift. Other useful features include it being safer for use in both the microwave and dishwasher.
Click here to see more on Amazon.
10. SignMission Biker Decal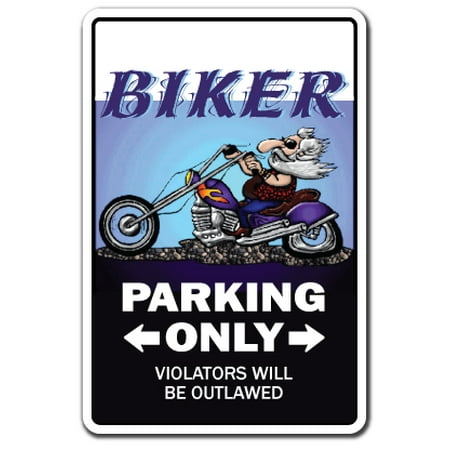 Older bikers will love to hang this inside their man caves. It offers a sense of camaraderie among their fellow bikers and shows biking isn't only a young man's game. You can just imagine the millions of Dad jokes it'll cause.
The decal itself being funny is another appealing trait about it. It's easy to tell this out of shape older man is on his last legs as a rider. These aspects make it an excellent gift for Father's Day, Christmas, or a birthday.
Click here to see more on Wal-Mart.
11. V.I.P. Motorcycle Alarm Clock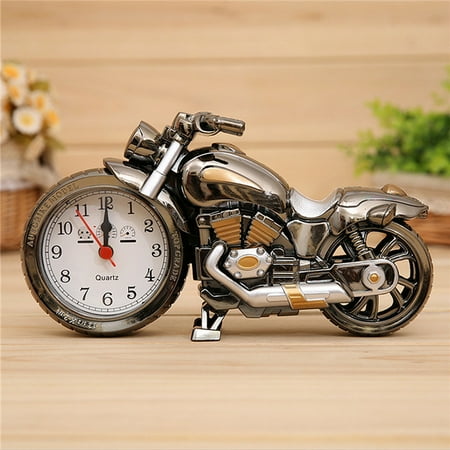 Our last item is a model motorcycle with an alarm clock built into its front wheel. It's an interesting design that could be a great addition to a nightstand or desk.
The product's alarm is known to work well, which tends to be an issue with similar items. Bikers would have no problems using it as their primary or backup morning wakeup call. It's also a little bit more fun than relying on your phone.