If a special girl in your life recently got their license or perhaps a new car, one of the most thoughtful ways to show your love and support is with a unique accessory. From cute automotive decor to important functional items, there are plenty of gifts on the market that she is sure to love.
If you're not sure where to begin shopping for this special driver in your life, you have come to the right place. For your convenience, we have created a list of 13 great gifts that will make her feel special and loved. Without further ado, let's get into it!
1. Always Prepared 125 Piece Roadside Emergency Kit
Nothing says that you care about her safety quite like a 125 piece roadside emergency kit. With this handy kit, she will have all she needs in the event of an unexpected emergency. This kit can be conveniently placed under a seat or in the trunk for quick and easy access if needed.
Click here to see more on Amazon.
2. Crystal Rhinestone Steering Wheel Cover
Your special girl can add some bling to her car's interior with this diamond steering wheel cover. The cover has a rubber inner ring, so it won't slip around. The stones on the cover also massage the hands while driving for superior comfort. This cover fits most steering wheels, and the installation process is a breeze.
Click here to see more on Amazon.
3. Essential Oil Diffuser For Vent
This set is the perfect gift for the girl that loves essential oils. The set includes two cute vent clips that house a colorful felt pad that can be loaded with essential oils. Simply add a few drops of the desired oil, clip it onto the vent, and enjoy a fresh fragrance for the whole trip. In total, 36 felt pads are included in the set.
Click here to see more on Amazon.
4. High Road Console Trash Can With Lid
One of the biggest struggles of car ownership is keeping the vehicle's interior clean. This product aims to make car cleanliness a breeze. This trash can has a capacity of 1.5 gallons, and it has a durable vinyl lining for added spill protection. The exterior is made of tough polyester. It also has multiple exterior pockets for added storage.
Click here to see more on Amazon.
5. Pretty Pink Roadside Kit
This is another all in one roadside emergency preparedness kit for your special driver. Everything is pink which adds a cute factor, but it also adds visibility for safety purposes. This kit contains everything needed for minor roadside emergencies. Hopefully,\ she'll never need to use these items, but they'll be a blessing if she does!
Click here to see more on Amazon.
6. Hamsa Car Charm
This is a cute mirror decoration that your special driver is sure to love. It is made out of zinc alloy, and it measures 7.5 inches in length. Not only is the main piece decorative, but the three dangling charms are adorable and intricate as well. Your driver will be the envy of her friends with this cute charm.
Click here to see more on Amazon.
7. Drive Auto Car Organizer
This product will allow your special driver to keep her car organized. Honestly, you can never have too much organization in your vehicle. This organizer will help keep everything neat, orderly, and easy to find and access.
All the panels are reinforced to keep the organizer upright and stable. It has 2 big front pockets, 8 side pockets, and many other folding compartments. It also has tie-down straps and hooks so that you can latch it into your vehicle to keep it in one place.
Click here to see more on Amazon.
8. Ladybug Heart Keychain With Velvet Bag
Ladybugs are such cute figures, especially in the form of a colorful keychain like this one. The Monell keychain has ladybugs, hearts, daisy, and jewels decorating the chain in colors of white and red. Diamond-like jewels accompany the charms, too. The keychain is crafted from a zinc alloy and measures 3.6 inches in length.
Click here to see more on Amazon.
9. Headrest Hanger Hooks
Like we mentioned before, storage and organization in the vehicle are always welcome. These headrest hanger hooks are incredibly convenient and useful. Easily hang any type of bag on these hooks—from shopping bags to purses, these hooks can hold them all. The hook can swivel around, adding versatility to where you want the bags hung.
You'll receive two hooks when you order this product. Each hook can hold up to 18 pounds. The portion that hooks onto the headrest contains silicone to help it stay in place.
Click here to see more on Amazon.
10. Decorative Elephant Vent Clip
Enjoy fresh scents in your vehicle with this cute decorative elephant vent clip. Car fresheners don't have the be the standard boring ones anymore. This enamel and rhinestone elephant has an adorable design that is sure to add to the aesthetic of her car.
You can pick from a variety of elephant colors including, but not limited to, white, gold, blue, silver, and pink. There are even a few different elephant designs to choose from.
Click here to see more on Amazon.
11. Car Essential Oil Diffuser With Ports
Essential oils and all kinds of outlets seem to be important car accessories nowadays! You can meet those two needs with this one product. From this cup holder product, you'll get aromatherapy, humidification, purification, USB charging, and a car charger socket. When the water is below the low-water line, it automatically turns off. Enjoy this portable, easy-to-use product!
Click here to see more on Amazon.
12. Armor All Complete Car Care Gift Pack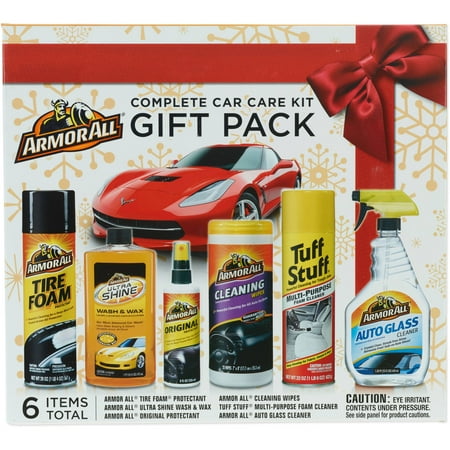 Cleanliness is very much valued, so make sure that the special girl in your life can keep up with the cleanliness in her car. This Armor All complete car care gift pack is certainly a good place to start. This pack includes glass cleaner, cleaning wipes, ultra shine wash and wax, tire foam protectant, original protectant, and multi-purpose foam cleaner.
These items will help her keep the interior and exterior of her car clean and protected. She'll be amazed by the cleanliness of her vehicle thanks to these items.
Click here to see more on Walmart.com.
13. Ladybug Headrest Cover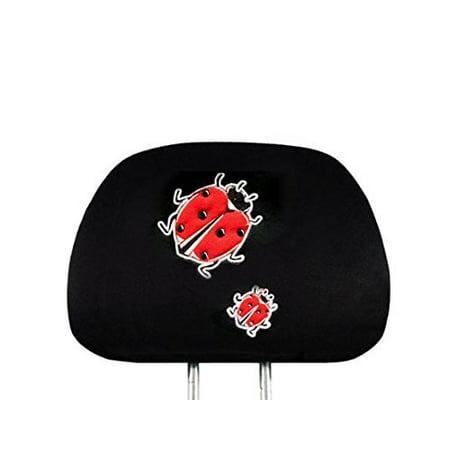 Gift your special gal with this cute ladybug headrest cover. The headrest cover has a pattern of embroidered ladybugs and has a universal fit, meaning it should fit the style of any vehicle's headrest. The headrest cover will prolong the life of the headrest and keep it protected from the elements.
It's made from soft polyester with a foam cushion in it to make it extra soft and comfortable. This comes with one cover, so make sure to purchase two if you want to outfit both of the front seats of the vehicle.
Click here to see more on Walmart.com.
Let us know in the comments which product you're going to get! Before you go, be sure to check out these other guides:
Why Is Driving So Hard? [And 7 Ways To Make It Easier]
24 Awesome Pickup Truck Key Chains That Make Perfect Gifts For Fans