We may get commissions for purchases made through links in this post.
Riding motorcycles is something that brings joy to a lot of people. But riding at 65mph down the highway for extended periods can also cause ear damage if you're not careful. And though earplugs can do the job, those may not be comfortable for some people. Nowadays, we see some of the same technology used in noise-canceling headphones being brought to motorcycle helmets.
These helmets will reduce the sounds of wind, the engine, other car's engine to a level that decreases your risk of hearing damage, while still allowing you to hear enough for safety. Some even have ambient settings that will allow you to block out certain sounds and not others. We've put together a list of the best noise-canceling motorcycle helmets on the market for you here.
1. Shoei Neotec 2
The Neotec 2 has a lightweight, highly-aerodynamic shell. With advanced noise reduction and optimal vision protection, SHOEI has achieved new heights in headgear design. There are four different shell sizes and five different liners available to create ultimate comfort and fit. SHOEI's proven 360° Pivot Locking System, made of high-quality stainless steel components, ensures a safe and secure closure.
Click here to see this on Amazon.
2. Bell Qualifier Full Face Motorcycle Helmet
This sleek helmet features a lightweight polycarbonate shell with an adjustable ventilation system for cooling and comfort. The padded Wind Collar drastically reduces wind and road noise, and the aerodynamic profile resists buffeting and lift. It also has a moisture-wicking, removable/washable interior and contoured cheek pads.
There are integrated speaker pockets, and a click release button for the fastest, easiest, tool-free shield changes ever. This helmet accommodates the Bell Sena SMH10 and Cardo Scala Rider Q1/Q3 Bluetooth stereo headset and intercom.
Click here to see this on Amazon.
3. TORC Full Face Modular Helmet
This helmet is a great lightweight alternative to other helmets, as it is 20 percent smaller with equal protection as its bulky competitors. It features significant intake venting, Venturi venting for the rear exhaust, and it has a one-button release mechanism for the front chin bar for easy in and out. The Bluetooth 2.0 technology allows you to receive and send calls and listen to streaming music in stereo as well as listen clearly to GPS directions.
4. Shoei RF-1200 Dedicated Helmet
A near to perfect helmet, the Shoei RF-1200 Helmet was designed from its beginning to be a leader in comfort, performance, and protection. The wind tunnel-tested shell is optimized to provide a compact and aerodynamic shape, reducing wind-noise, buffeting, and weight.
It is not only one of the most comfortable helmets on the market, but also one of the safest, meeting both DOT and SNELL M2015 safety standards. Whether you hang out on the track or the highways, the RF-1200 will let you ride with confidence, and enjoy the ride.
Click here to see this helmet on Amazon.
5. Arai Aluminum Helmet
This cool looking helmet boasts an oval shell with an even balance between length and width. It has a quick-release lever for the side pod and the face shield. The clear anti-fog Pinlock insert is excellent for all-season visibility. The QVF and QVR upper ventilation ducts offer more adjustment and better flow-through performance when riding down the road. It's water-repellent, and the ES chin cover increases exhaust from the mouth area while reducing wind noise.
Click here to see this helmet on Amazon.
6. Arai Corsair X Vinales Helmet
Are you looking for a bit of flash in your helmet? This red & black Arai has all the features you want while also looking awesome. The Corsair-X comes standard with the VAS Max Vision Shield for better visibility in all seasons and all types of riding. Its adjustable air intake vents provide improved sealing, which decreases road noise and water intrusion.
Other features include a quick-release lever for side pod and face shield, anti-fog Pinlock inserts for visibility, de-mist latch position, a removable neck roll with exhaust channels, and a fully removable anti-bacterial Eco-Pure liner. It also meets or exceeds DOT and Snell standards.
Click here for this rad helmet on Amazon.
7. LS2 Challenger Helmet
The Stars and Stripes decorate this helmet made for long hauls on the Interstate. The LS2 Challenger GT Carbon Helmet is a high-performance sport-touring helmet with a 100% carbon fiber shell for lighter weight. LS2's engineers and designers developed a helmet that is comfortable for the long haul and high speeds. It has a retractable internal sun visor as well as a 3D optically-correct, Pinlock-ready face shield with tear-off posts. It also features massive amounts of ventilation and is DOT approved.
Click here to see this helmet on Amazon.
8. WindJammer Helmet Insert
This helmet insert works to take your existing helmet and cut down on wind noise. The zip front comes on and off of your helmet easily, and the profile shaped neck works great for cold weather rides, cutting down on noise and keeping your neck extra warm. The silicon band doesn't leave any marks on your helmet and is easy to install. This is a great way to cut down on some noise, while keeping the helmet you already own.
Click here for this on Amazon.
9. Arai Quantum-X Sting Helmet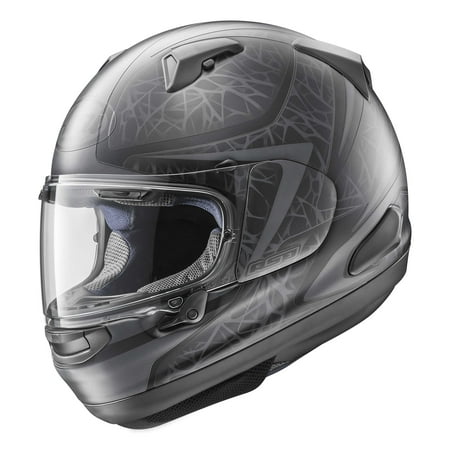 The Quantum-X Sting has a fresh and cool design. The shell design delivers both performance and affordability while incorporating the elegant new VAS shield that provides a rounder shell shape and an easy-to-use changing system. The VAS shield has an adjustable air intake vents that provide improved sealing, which decreases road noise and water intrusion. It has a round oval shell for head shapes with an even balance between length and width. It also has clear anti-fog pinlock for all-season visibility and for all types of riding.
Click here for this helmet at Walmart.com.
10. Shoei Hornet X2 Helmet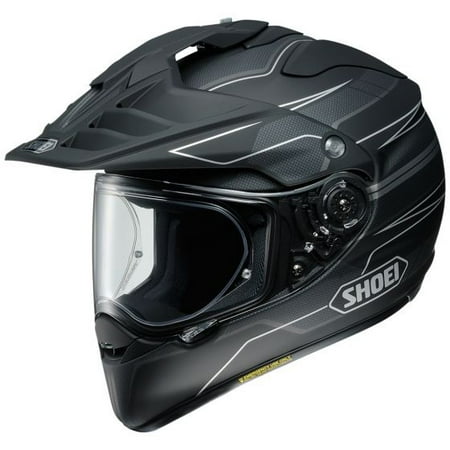 This fierce-looking helmet has all of the modern technology features you could want. It's made of multi-ply Matrix AIM shell with combines fiberglass, resin, and organic materials for the ultimate in strength and protection. The emergency quick release system allows emergency personnel to remove the cheek pads in case of an accident quickly. The visor is made for the ultimate in air uptake and drag reduction. It has anti-fog protection, easily changed visors, and noise reduction features.
If you love this helmet, you can find it at Walmart.com.
11. Shoei GT-Air Pendulum Helmet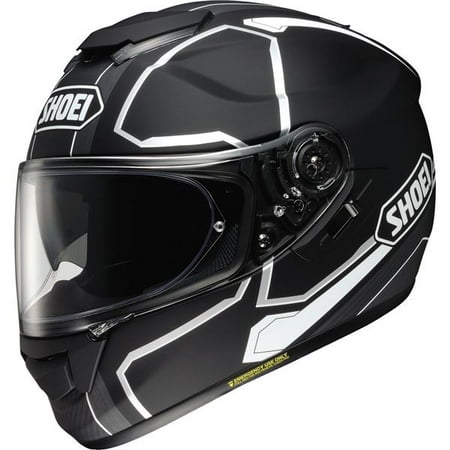 This stylish helmet from Shoei focuses on reducing wind noise without blocking the road's "informative noise" important for your safety. It's compact and aerodynamic with a smaller lightweight shell design. Three different shell sizes ensure finding a perfect fit, and the dual-density EPS lining makes this possible. The GT-Air's built in QSV-1 sun shield gives riders instant relief from sun glare in one quick motion.
The center pad components are 3-D shaped to match the contours of the rider's head, allowing for a comfortable fit while maintaining a firm hold for high-speed riding. The EQRS (Emergency Quick-Release System) allows emergency medical personnel to remove cheek pads from an injured riders helmet easily. A chin curtain and breath guard are also included.
Click here to see this helmet at Walmart.com.
As technology continues to evolve, the noise-reducing features of motorcycle helmets will keep getting better with time. But your ears can't wait for the next greatest thing. They need a super noise reduction helmet now, and these options may be just what they need. We've got a few other posts about helmets here on VEHQ.com that may be of interest to you. Please check them out below:
8 Awesome Motorcycle Helmets With Bluetooth