Red Wing Boots are synonymous with quality and long-lasting wear. The company was founded in the early 20th century by Charles Beckman from Red Wing, Minnesota. He saw a need in the marketplace for great quality, comfortable, long-lasting, men's work shoes. Even today, the company's quality statement is "Make Great Product, Deliver On Time, and Continuously Improve." That says a lot about the type of shoe you can expect when you purchase a Red Wing boot.
Originally started as a work boot company, the business has expanded over the years to include traditional boots for the job site, to hunting boots, to fashionable casual shoes for men and women. Along with this diversity of footwear, the company also sells motorcycle boots. As they say, the boots are so comfortable you wish they'd make saddles from the leather. Are you sold yet? Want to try a pair on for size?
We've found a number of different styles below of Red Wing motorcycle-style boots.
Red Wing Motorcycle Style Boots For Men
Heritage Roughneck Lace-Up Boot
This classic lace-up boot from Red Wing is part of their heritage collection which harkens back to the early days of the business. This boot includes a Goodyear welt, a Vibram sole, cork midsole, and nickel riveted eyelets. The steel shank ensures this will make a good work boot for the days when you need to get down and dirty in the mechanic's pit. Check the sizing as some wearers say this boot stretches up a half a size after regular wear.
Click here to see this on Amazon.
Heritage Men's Moc Boot
These Red Wing boots, also part of the heritage collection, feature full-grain water repellant leather in a classic and cool style. The leather footbed molds to your foot over time creating a really personalized fit. This shoe is available in ten different leather colors, though the classic black is going to look the best with your motorcycle gear.
Click here to see this on Amazon.
Red Wing Heritage Engineer Boot For Men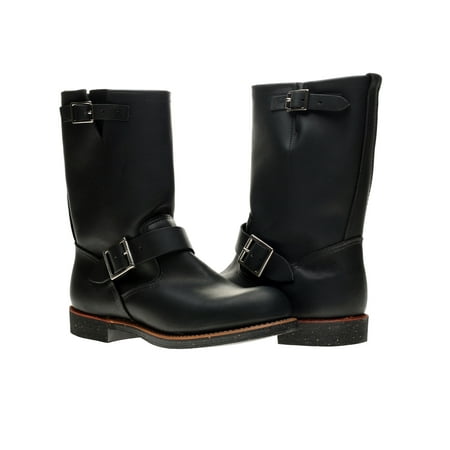 This classic engineer boot has an 11" height for the classic engineer boot look. It's handcrafted out of smooth leather and features the Goodyear welt stitching that Red Wing is known for. It has a moisture-wicking lining and an oil-resistant tread so your feet won't slip off the pedals. Many people recommend buying half a size smaller than your normal size, as the shoe will stretch over time.
Click here to see this on Walmart.com.
Red Wing Heritage Blacksmith Boot For Men
Need a boot that can take you from your bike into the office? Check out this Red Wing Heritage Blacksmith boot. They are built using Red Wing leathers and a hardy Vibram outsole. The little bit of extra height keeps snow out during the winter and dust out during dry summer days. It has dull gilt eyelets and hooks and will clean up beautifully with a bit of polish if they get scuffed up on the weekends.
Click here to see these on Walmart.com.
Red Wing Men's Rover Boot
Looking for a versatile pair of boots that have all of the Red Wing appeal? Check out the Rover Boot. These boots are super comfortable and have of all the great styling you'd expect. The break-in period for these might be a little longer than expected, and like all of the Red Wing brand boots, consider sizing down a half a size for the best fit over time.
Click here to see these on Amazon.
Red Wing Women's Motorcycle Style Boots
Red Wing Eight Inch Black Boundary Boots For Women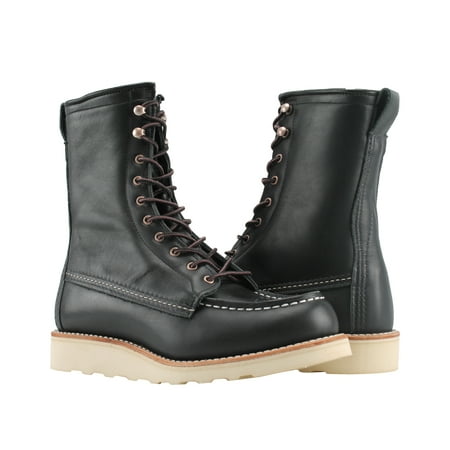 These awesome women's boots from Red Wing are patterned after the iconic men's work boot but completely rebuilt for a woman's foot. It's comfortable and tough but has a narrower toe box for a better fit. It has a full-grain water repellent leather upper, Goodyear welt construction, and a polyurethane Traction Tred outsole. The lace-up style fits snugly on your ankle which keeps the elements at bay.
Click here to see this shoe at Walmart.com.
Red Wing Heritage Silversmith Boot For Women
If you're looking for not just a boot, but an investment for your feet, consider this pair of Red Wings. The Silversmith was initially designed for work in farm fields and blacksmith workshops but today can be worn with everything from motorcycle outfits to a wedding dress. The leather is buttery soft, fits like a glove, and unlike the men's sizing, this pair fits true to size. No-slip Vibram soles make them secure on any kind of tractioned footing. Why not treat yourself?
Click here to see this at Walmart.com.
Red Wing Short Engineer's Boot For Women
These boots may start out as your riding shoes, but you're going to find that you wear them with everything. Full-grain leather and a Vibram sole, combined with the Red Wing Goodyear welt construction. Sharp-looking buckles add a bit of style.
Click here to see these bad girls on Amazon.
Women's Red Wing Iron Ranger Boot
Another classic beauty of a boot from Red Wing. The Iron Ranger is similar in style to the Silversmith, providing a boot that can take you from motorcycle to the board room. They do take a bit to break in, and some wearers suggest sizing up a half of size. You won't regret buying such a classic and beautiful pair of boots.
Click here to see these on Amazon.
Red Wing Round Toe Women's 6" Lace-Up Boot
Want comfort, looks, and practicality? Consider this boot from Red Wing for women. This one is made from Colorado Atanoda leather and is set on a crepe sole and is made in the tannery in Red Wing, Minnesota. It has clean lines and a stylized look that make it a versatile and casual boot to wear. It is true to size sizing and is available in a couple of browns as well.
Click here to see these on Amazon.
Hopefully you've found the Red Wings of your dreams in this post. Remember, these boots are an investment. You might pay more upfront than you would for a different pair of boots, but these are built to last. If you want a great motorcycle boot, then go with an original and get a pair of Red Wings.
Be sure to check out these other posts we think you'd enjoy -
10 Classic Leather Motorcycle Jackets For Men
Where To Buy Motorcycle Gear [Top 40 online stores]