While most RVs come with a built-in furnace, campers may find themselves wanting an alternate source of heating when it gets cold. With so many portable heaters on the market, which ones are the best for RVers to use?
Types of heaters
In this article, we group portable RV heaters into three different categories:
Electric convection heaters
Electric infrared heaters
Propane radiant heaters
Convection heaters are the most common types of heaters on the market. They are commonly used in regular households, but can be helpful in an RV as well.
Infrared heaters are powered by electricity and give off radiant heat. They are less common, but useful in a small space, like an RV.
Finally, we recommend a couple of propane powered heaters. These heaters also produce radiant heat. RVers don't need to be connected to electricity to use these heaters.
Understanding heat output
Watts
Watts are the amount of power needed to run the heater. The more watts a heater uses, the more heat it can output.
It's important to know how many square feet you want to heat up inside your RV. Once you've figured that out, use this rule of thumb to choose the right size heater. It will take about 12 watts of power to heat up one square foot of space inside an RV.
Using this equation, a 1,000 watt heater warms up approximately 85 square feet. A 1,500 watt heater heats up about 150 square feet, a 2,000 watt heater heats up 175 square feet and so on.
BTUs
BTU stands for British Thermal Unit, and is a standard measurement for units of heat. When calculating how many BTUs a heater can produce, you can figure that 1 watt of electricity produces 3.4 BTUs.
Therefore, a heater producing 5,000 BTUs can warm up 150 square feet of space. A heater that gives off 7,000 BTUs can heat up to 300 square feet.
The heaters recommended in this article range from 2,720 BTUs up to 9,000 BTUs.
Electric convection heaters
All of the heaters in this section are powered by electricity and use a convection heating method to warm up the air in a room. These heaters are recommended for RVers who have a reliable source of 120V electric power.
Convection heaters use fans or blowers inside the unit to circulate air. Some of the fans can be noisy, which is a potential con to this type of heater. Convection heaters are designed to heat up a room quickly, by heating the air throughout the room.
Lasko 755320 Ceramic Tower Heater
This popular heater is lightweight and has a small footprint, ideal for an RV setting. With convection heating, it produces 1,500 watts (or about 5,000 BTUs) of warmth. It has an adjustable thermostat and a built-in timer.
Owners appreciate the oscillating feature and the remote control. On the back, there is a convenient handle for moving it from room to room. This electric heater will keep your main RV room comfortable through cold temperatures outside.
Kloudi
Portable Electric Ceramic Heaters
This heater has a 3 temperature setting which is perfect for those who want different levels of heat coming out of the machine. It also comes with a 45 degree rotation for proper dispense of heat around the room.
Other features include automatic overheat shut-off when the temperature reached 149℉. The machine can be restarted right after it has cooled down.
Learn more about this heater here.
Vornado AVH10 Vortex Heater
This modern style heater has 2 settings: low (750W) and high (1500W). There is also an option to use the fan only, without the heater. On high level, this heater will easily warm up 150 square feet.
Vornado's technology warms up all of the air in the room and is auto-controlled. Use the LED screen to set the temperature you desire, and the heater will maintain that temperature. Safety features include an automatic shut-off feature in case of the unit getting tipped over and a cool-to-the-touch exterior.
Check out the Vornado AVH10 Vortex Heater here.
Dyson Hot + Cool Fan Heater
The Dyson AM09 Hot + Cool Fan Heater is another popular model. Its tower design makes it compact for small spaces in an RV. It's rated at 1500 watts and provides 5,000 BTUs of warmth.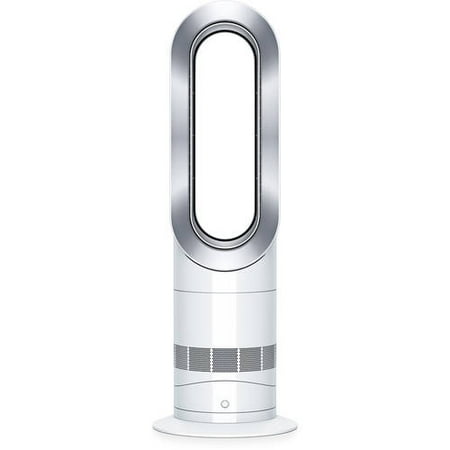 Features include adjustable thermostat, oscillating fan and a remote control that is magnetized to attach to the top of the heater. The thermostat reads the temperature in the room and shuts off when it reaches the desired warmth. It is extremely quiet and can also be used for cool air. This unit is not an air conditioner, but it works much like an electric fan, without the blades.
You can purchase this heater here.
DeLonghi Safe Heat ComforTemp Radiator
This heater is a little bit different from the other in that it heats through oil that is inside the radiator. The radiator is a sealed unit, however, and the oil never evaporates nor needs to be refilled. It runs on electricity, which warms up the oil, and a convection mechanism sends the warmth out into the room.
Since the heater is 1,500 watts, it efficiently heats up a 150 square foot room.
Safety features include an automatic shut-off to prevent overheating, and a cool exterior. It has wheels on the bottom so it is convenient to move around.
Look for more information about this heater here.
Electric infrared heaters
The heaters recommended in this section use infrared technology for heating, and produce radiant heat.
Infrared heat is similar to sunshine. When you stand in the sun, your skin absorbs the light and you feel warmer than when you stand in the shade. Infrared heaters also emit heat that is absorbed by people and objects in the room.
One benefit of infrared heaters is that they tend to be quiet, since they don't use fans. They also warm the air without drying it out. Infrared heaters produce consistent mild heat to maintain temperature, versus warming up a cool room quickly.
EdenPURE
1500-Watt Electric Portable Heater
This is a 1,500 watt heater that covers 800-1000 square feet of space. The heat output is 5,200 BTUs. The manufacturer claims it to have a lifespan of 80,000 hours and a lifetime air filter.
This heater is programmable up to 20 levels. While this heater weighs 23.9 pounds, there are wheels and two handles on each side to help move it around. It is a quiet heater and remains cool to the touch while operating. People who prefer infrared heating will want to check this portable RV heater out.
Find this heater on Amazon here.
Dr Infrared portable space heater
This heater uses infrared elements to heat up objects in a room, but also uses a blower to circulate air. This combination of radiant and convection heating makes for one efficient heater. The low setting uses 1,000 watts of power and the high setting uses 1,500 watts.
The Dr Infrared heater also features a digital display, and adjustable temperature settings. Owners don't need to worry about safety, as this product comes with tip-over and overheating shut-off mechanisms. It has wheels on the bottom, so one can easily move it from room to room as needed.
Check out this infrared space heater here.
Propane radiant heaters
The heaters in this section are similar to the infrared heaters above, except they don't run on electricity. They run on propane gas, which makes it a good choice for when not connected to shore power or electrical hookup at a campsite.
Some campers are concerned about propane leaks, but most propane heaters have built in CO & CO2 sensors and will shut off if oxygen is compromised. Propane heaters should also have a fuel valve close when pilot light goes out, or if the heater is tipped over.
Mr. Heater Buddy Radiant Heater
This powerful heater boasts 4,000-9,000 BTUs per hour, which will warm up any RV quickly. Owners enjoy the efficiency of this heater and the warmth it produces.
There is an oxygen sensor built in, and this heater will automatically shut-off if there is a propane leak. Another safety feature is the heater's tip-over sensor. It can be attached to different size propane tanks with the correct extension hose and filters. The run time (at maximum heat setting) is approximately 3 hours when connected to a standard propane canister.
Learn more about the Mr. Heater Buddy Heater here.
Camco Olympian RV Wave
This is another propane powered heater that provides radiant heat between 3,200-6,000 BTUs. In an RV space, this unit warms up to 230 square feet of space.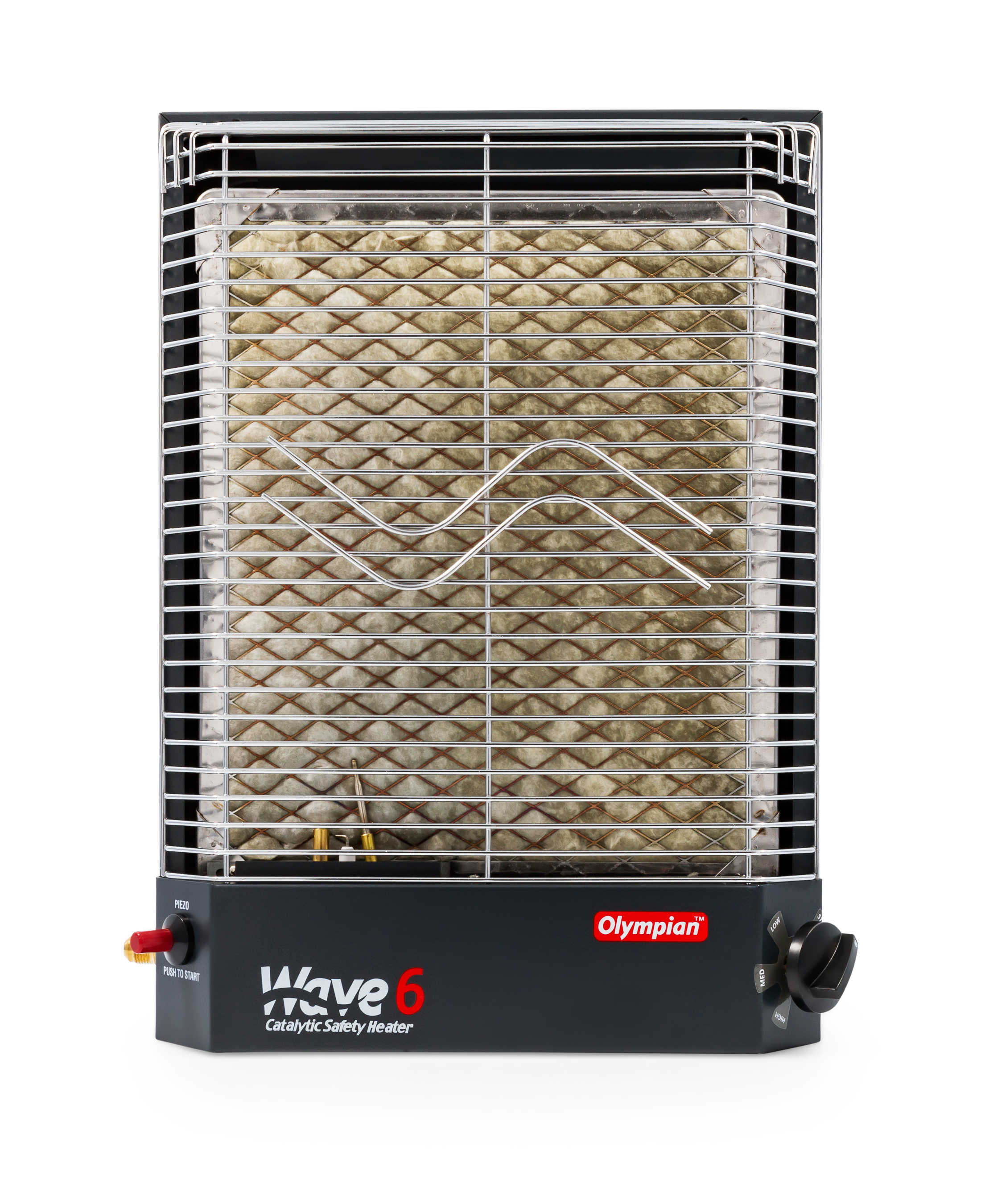 This heater comes in various sizes: the Wave-3, Wave-6 and Wave-8, each heating successively larger room sizes. It has safety features that include an automatic shut-off valve. This heater includes a one-year warranty. Some people use a wall-mount with this heater.
Check out this propane radiant heater here.
As you can see, there are many options for keeping yourself warm and comfortable through the cold winter months in your RV. We hope you can find one that works best for you.