Walmart's seemingly endless list of RV batteries can get confusing. There are so many choices, and just searching for "RV battery" on their website pulls up many batteries that aren't designed for use in an RV. So, to help you out in your quest for the perfect RV battery, we have carefully combed through all of the options available at Walmart to find the 7 best RV batteries for RV use.
Before we get started, a word about the types of batteries we will be discussing. Our list includes both standard lead-acid batteries as well as AGM batteries.
If you aren't already familiar with these types of batteries, check out our article Best RV Batteries for boondocking to learn more about the different types of batteries and how to choose the right one for you.
Buying from Walmart Online
If you're reading this, we're guessing you may be parked with your RV at a Walmart Superstore, or at least heading out on your way to one.
We just thought it might be worth mentioning that you can actually order online as well. In fact, you can buy online and pick up the battery in the store!
Going online, you can check for availability from the comfort of your home or RV. Can't find that specific battery in that store? No problem! Order online and they'll ship it to that store for you asap. Free shipping, of course!
So whether you're about to head out to the store, or just browsing online, let's start looking into the available RV batteries on Walmart. As you go through the list, clicking on the image or the link will take you to the product page on Walmart.com.
1. EverStart Lead Acid Marine Battery, Group 29DC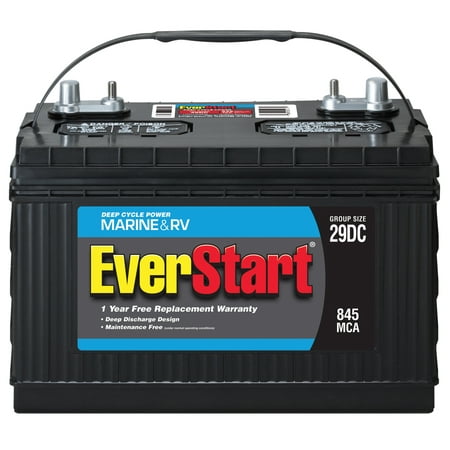 This EverStart Marine Battery claims to give your RV more power for longer. That's because it offers improved cycling capacity compared to what most stock RV batteries can provide. As a dedicated RV/Marine battery, it is designed specifically for RV use.
Owners rave about this battery's longevity (some have used it 6+ years!). Plus, Walmart offers a 1-year warranty on it - simply bring it back with your original receipt during that time if it fails, and you will receive a free replacement.
2. Mighty Max 35AH Deep Cycle AGM Battery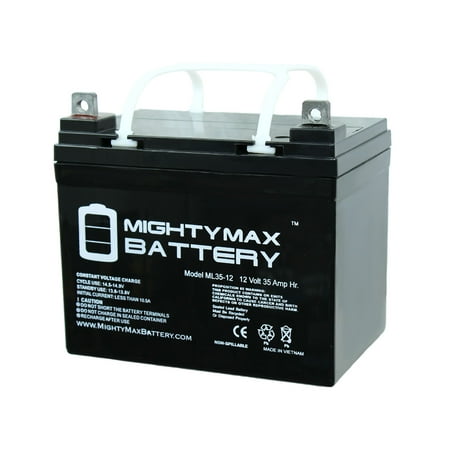 Because it uses an SLA (sealed lead-acid) AGM (absorbed glass mat) design, this Mighty Max batter offers maintenance-free power. Unlike standard lead-acid batteries, you will never have to check and refill its water level. Plus, it can be used in a wide range of temperatures and has a long service life and deep discharge recovery abilities.
This small battery can be mounted in any position and resists shocks and vibrations exceptionally well. No wonder owners rave about this battery! Just note that, because of its smaller size, you will most likely need multiple batteries to get any real benefit out of them for your RV.
This battery is also available on Amazon if you're interested - just click here (or the image) -
Or, consider the next option:
3. Mighty Max 100AH Deep Cycle AGM Battery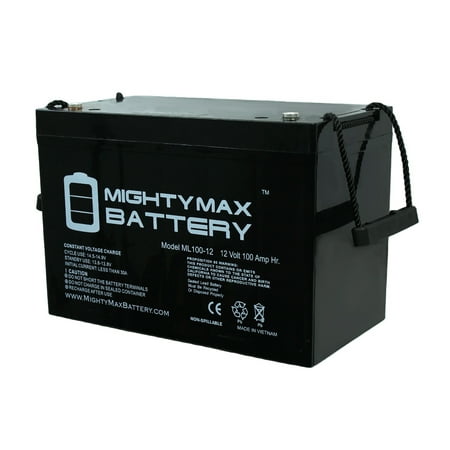 Up next, we have another well-loved Mighty Max AGM battery. At first, it might be hard to tell the difference between the two, but there is a big one: the amp hours. Compared to the 35AH (35 amp hours) charge capacity of the previous battery, this one packs a much more potent 100AH charge. That means it can give your RV either more power or power the same appliances for longer.
Of course, it still features the same long service life and deep discharge recovery characteristics of the previous Mighty Max battery. And, unlike regular lead-acid batteries, this AGM battery will not require owners to monitor and refill the water level.
Click here to see on Walmart.com
Also available on Amazon.com here -
4. EverStart Lead-Acid Marine/RV Battery Group 24DC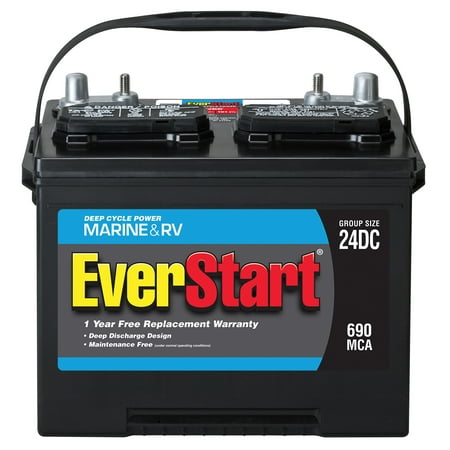 Just like the first EverStart battery on the list, this one uses a standard lead-acid design. That means it offers good (but not the best) amp hours and discharging characteristics. Being in group 24, however, this battery is slightly smaller. That means it will fit in a smaller space but does not offer as much charge as group 27 or 29 batteries.
The great thing about this EverStart is that owners have reported being very happy with this deep cycle battery - it lasts them a nice, long time and powers their RVs well. And it should last you for a long time as well - just keep the water topped off!
Click here to see on Walmart.com
Noticing a trend? It appears that EverStart, living up to its name, is making Walmart shoppers extremely happy with their products. This one, using the same design as the previous two, splits the difference between sizes. Being in group 27, this Marine/RV battery is a great choice if you were having trouble deciding between the previous two EverStart batteries. Or maybe you want something bigger than a group 24, but group 29 is too large for your battery tray.
Either way, it appears that this deep-cycle battery, with its great discharge properties, is mostly well-reviewed by owners, just like the previous EverStarts.
Click here to see on Walmart.com
6. VMAX SLR100 AGM Deep Cycle Battery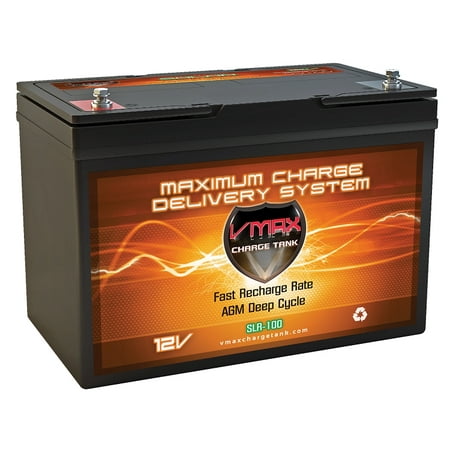 While Walmart has not gathered many reviews for this VMAX battery, it is a well-known RV battery with a stellar reputation. This rather heavy-duty unit is made with a special military-grade alloy that gives it superior performance to standard lead-acid batteries. And, unlike those batteries, it is maintenance-free and does not emit any toxic fumes.
Owners enjoy the fast-charging properties, which is great anytime you are running low on juice while camping. Many RVers use two or three of these in conjunction with their solar panels, for a great eco-friendly setup. VMAX claims that these batteries offer an "extremely low self-discharge rate," which is perfect for RVs, which tend to sit for long periods of time between use.
Click here to see on Walmart.com
7. VMAX SLR155 AGM Deep Cycle Battery (Set of 2)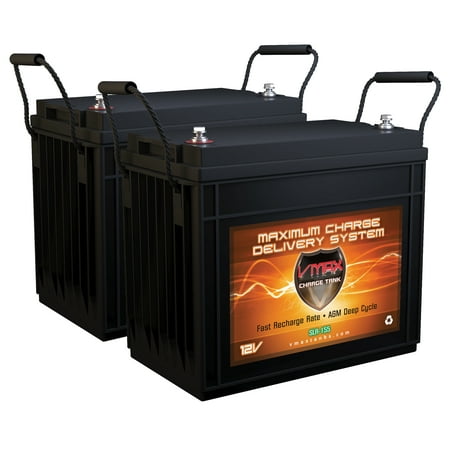 If you are serious about finding a great battery setup for your RV, here is a great product for you. This set of two 155AH batteries provides a total of 310AH of power for your RV. That's a good amount of charge - perfect for storing power from solar panels. And their special construction allows them to charge faster than most other lead-acid batteries. These sealed batteries don't emit any dangerous fumes or require any maintenance.
Of course, this setup will also require a bigger investment than the other options on this list, so make sure you really need all of these features before purchasing something like this. If you decide to go with them, however, you should be more than happy with your batteries, as VMAX batteries have a stellar reputation for making great RV batteries.
Click here to see on Walmart.com
How to Make Sure Your Walmart Battery is In Stock
Once you have decided on the battery for your RV, it is a good idea to check that it is in stock at your local Walmart before purchasing. Luckily, Walmart makes it very easy to do this:
On the product page, click "More delivery & pickup options:"
That will bring up the location selector pop-up screen. Simply put in your correct zip code (if it's not already there), and review the list of local Walmarts. The status of the battery will be displayed next to each store like this:
Or you could try and order via their website. That way, they'll deliver your battery to you anywhere in the country.
Additional Batteries in Walmart FAQ
We've put together this quick FAQ, or Frequently Asked Questions, that people have when shopping for RV batteries at Walmart.
Does Walmart have marine batteries?
Yes! In fact, a few of them were featured in this very post!
Does Walmart install or charge batteries?
That depends on the Walmart and on your rig. First, for any related services, you need to find a Walmart Auto Care Center Location. Those are usually found in Walmart Superstores, but you need to find the store first and check. Simply use the Walmart Store Locator here.
Can you park an RV for the night at a Walmart?
If you're shopping for a battery - which is a relatively expensive product - there's a good chance that you may be able to. This is always up to the local manager to decide and they tend to favor customers, especially those that spend a good amount at the branch.
You can read more about the art of overnight parking at Walmart - aka Wallydocking - in our this post.
We hope you found this short guide helpful! Leave us a comment if you have any questions, or want to let us know what is your favorite RV battery!