Though not as protective as a full-helmet (36.8% protection from trauma versus 55.5%), motorcycle half-helmets have other advantages and are typically DOT approved. Your ears aren't covered so that you can hear better, and you can wear these with your favorite pair of shades or goggles. And come on, they look cool.
Also known as beanies, the motorcycle half-helmet is available in a whole bunch of cool styles and designs for women. We've found some awesome ones here for you to check out. Whether you are into black, colors, patterns, or florals, there's a half-helmet for every woman in this list.
Women's Motorcycle Half Helmets
1. Matte Black Open Faced Half Helmet
This unisex helmet is available in four sizes, with the S or M being the size for most women. It has a quick-release strap, a DOT approved plastic shell, an integrated drop-down sun visor that can be removed and replaced, and premium venting to reduce heat build-up inside of the helmet.
Click here to see this helmet on Amazon.
2. Intricate Butterfly Half Helmet
Who says you can't have a pretty helmet? This matte black DOT approved thermoplastic resin shell sports a stunningly beautiful intricate butterfly in pinks, creams, and smoke grey. It's subtle and gorgeous. You won't even care about the helmet head wearing a beauty like this. It's lushly padded on the inside for comfort and has a double D-ring chin strap approved by the Federal Motor Vehicle Safety Standard.
Click here to see this one on Amazon.
3. Purple Flower and Butterfly Glossy Black Half Helmet
This half-helmet has a nice shine with its glossy black finish and rich floral design in a pretty purple. It sits deep on the head, meets DOT standards, and has a lightweight ABS molded shell. It has high-quality paint and graphic details.
You can find this helmet here on Amazon.
4. Gloss White Half Helmet
Maybe you want something a little lighter than the traditional black helmet. Why not choose gloss white? Sure, you may give off a stormtrooper vibe depending upon the jacket you choose, but it could also look amazing with your leathers of any color. It has a lightweight DOT approved resin shell, comfortable interior padding, an aerodynamic design, and layering core technology for safety.
Click here to see this helmet on Amazon.
5. Hot Pink Half Helmet
Want to get your girlie on? Then consider this awesome half helmet in a popping pink color. You will definitely get noticed going down the road wearing this bright splash of color on your head. It comes in seven sizes so that it will work for just about every human out there. This is the smallest low-profile half helmet that has been certified lab-tested and DOT approved. The strap doesn't pinch and comes with a fully adjustable chin strap.
Click here to see this one on Amazon.
6. Cruiser Shorty Half Helmet in Wizard Of Oz Glossy Red
This helmet is such a rich, beautiful color. It looks like the finest paint job that's been layered and buffed to perfection. Got a rich red bike? Consider this rich red helmet. Vroom vroom, you'll be making all the money moves with this bad actor. All silliness aside, this is a great helmet. It's stylish and comfortable. The paint job has scratch-proof technology over that deep shine, so you don't have to worry about banging it up. It exceeds DOT standards and has lightweight resin technology for the shell.
Click here to see this helmet on Amazon.
7. Pink Flames Half Helmet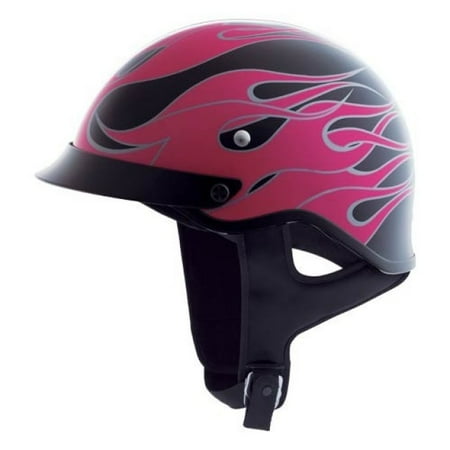 Go scorching down the highway with this flaming helmet. Striking pink flames swoosh back on a matte black helmet to give your head an aerodynamic look to match your bike. It has an aggressive shell shape that is totally DOT compliant and lightweight. The interior is padded with a Nylex material for comfort.
Click here to see it on Walmart's website.
8. BlueTooth Technology Half Helmet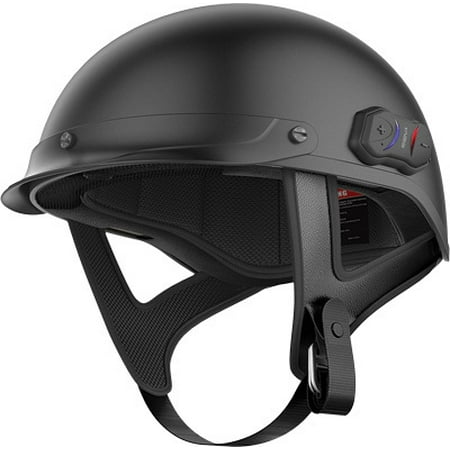 This helmet is more than just a helmet. It's a rolling sound system with integrated Bluetooth technology. Four riders can talk back and forth with these helmets, which is great when you're out for a ride with your spouse or friends. It has an intercom range of up to half a mile. Integrated speakers and a built-in microphone make this helmet a tool you don't want to leave home without. It's sleek to look at and weighs in at just over 2 pounds. And DOT approved, of course.
Check it out here on Walmart.com.
9. Bold And Bright Yellow Half Helmet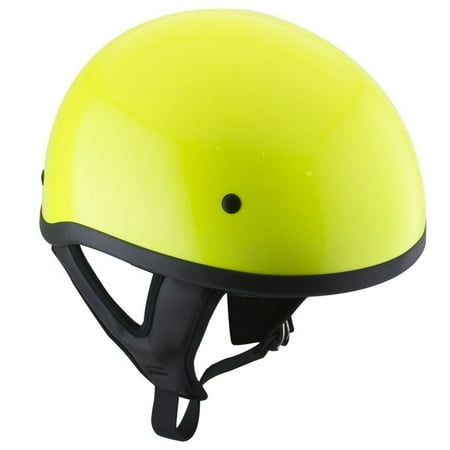 Not afraid of color? Then this bright and sunshiney yellow half helmet may be the one for you. It's made of a thermal polymer alloy shell construction; it has an absorbent comfort lining and an adjustable chin strap with quick-release snaps. The Outlaw brand logo is stamped on the back of the helmet to showcase your style. Meets or exceeds DOT standards and comes to you in a handy Outlaw storage bag to keep it looking great when not in use.
Check out this sunny helmet on Walmart.com here.
10. Half Helmet With Barbed Wire Heart
This shiny black skullcap features a print of a barbed wire heart with wings on its aerodynamic designed shell. It's made out of a strong ABS material that is DOT approved and has a super comfortable fully-adjustable chin strap with one touch buckle. This helmet comes in a variety of sizes, so you can be sure to get the one that right for you!
Click here to see this helmet on Amazon.
11. The Raven Half Helmet
This glossy black helmet with spidery tree branches, the moon, and a bold raven reeks of cool. It has a drop-down sun visor that is removable and replaceable. It's DOT approved and available in several different colors and designs for both men and women. The quick-release chin strap makes for easy on and off of this helmet.
Click here to see this on Amazon.
12. Scooter Half Helmet
Is your ride not quite as growly as a full-on motorcycle? Do you ride a scooter or maybe even an electric bike? Then this fun half helmet may be just what you're looking for. It comes in three unisex sizes and is styled after classic German helmet styling. It's made out of lightweight ABS plastic and has a multi-density EPS lining. A ventilation system keeps you cool, and a safety buckle system keeps you protected. The visor can rise as well as be over your face.
Click here to see this helmet on Amazon.
We hope you found a half-helmet to fall in love with here. For other great information, please check out our posts below -
10 Types of Motorcycle Helmets