RV dehumidifiers can be one of the best solutions for combatting condensation. After all, too much condensation can lead to a slew of expensive and vehicle-ruining problems, including corrosion, wood rot, and mold.
When it comes to finding a dehumidifier that's right for your motorhome, travel trailer or 5th wheel, you might not be sure where to start. That's why we put together this list of the 7 best dehumidifiers for RVs. Every recommendation is highly-rated so you know you're getting a high-quality product.
Also, in case you don't know the difference between a refrigerant and desiccant dehumidifier or what an extraction rate is, we included a brief Q&A at the end of this article. Need to know more about what might be causing this? Check out our guide: Condensation Problems in An RV – And How to Prevent Them
Ivation IVADM45 Thermo-Electric Intelligent Dehumidifier
The Ivation IVAD345 is more sizable than the other dehumidifiers on this list, as it's intended for rooms that are 2,200 cubic feet or less. It measures 138 inches tall and uses thermo-electric module technology from Peltier.
It's intended for all sorts of uses in your RV, including the bedroom, bathroom, kitchen, or closets. You can even bring the Ivation dehumidifier home with you for use there or in your car. Like most of the dehumidifiers on this list, Ivation's will turn itself off once the tank is full. You'll also see an indicator light so you know to dump the water in there.
There's an auto humidistat included so the dehumidifier doesn't have to keep chugging along even once the relative humidity is achieved in the RV. This can increase its lifespan. The water reservoir in the back of the dehumidifier can be taken out and emptied anytime, but it can hold water for up to three days before it needs to be dumped.
Pure Enrichment Deluxe Mini Dehumidifier
Pure Enrichment's dehumidifier has a sleek body in white and blue that's meant to blend in with your RV décor. The blue portion of this mini dehumidifier is the water tank. This is translucent so you can easily see how much water the dehumidifier has. You will have to keep an eye on this since there are no warning lights. That said, the included automatic shut-off will prevent too much water from accumulating.
When the tank is full, it quickly slides out for fast and convenient dumping. Pure Enrichment says their dehumidifier works "whisper-quiet" so it won't keep anyone in the RV up at night if it's running.
PureGuardian Small Space Dehumidifier
Our first pick for your RV is the PureGuardian Small Space dehumidifier. This is a smaller desiccant unit that's portable for use throughout your RV. Camping World recommends you use it in your vehicle's closets, bathroom, or kitchen.
The PureGuardian will turn itself off when it gets full of water. There's also an indicator light that lets you know when that happens. Otherwise, you can use the off and on buttons to determine how much humidity is in the air. With thermo-electric Peltier technology, not only will your RV smell better, but it'll be healthier to live in, too. There will be no more musty odors and fewer dust mites, mold spores, and other allergens. The extraction rate for the PureGuardian is 80 percent humidity and 360 milliliters.
Click here to see more on Camping World
hOmeLabs Dehumidifier
Do you need a bigger dehumidifier? This one from hOmeLabs is available in two sizes: six and nine gallons. The extraction rate for the six-gallon dehumidifier is 50 pints of water removed daily while the nine-gallon one can remove 70 pints.
Your RV interior should be at least 2,500 square feet for the smaller model and up to 4,000 square feet for the nine-gallon dehumidifier. No matter which size you choose, hOmeLabs' dehumidifier has a Turbo mode to increase the cubic feet per minute (CFM) of humidity removed. This can control especially strong odors in a space that's got a lot of condensation.
To use the dehumidifier, you only have to choose your moisture setting. It will run for up to 24 hours until all the humidity in the air reaches your desired moisture level. Then the hOmeLabs dehumidifier will turn itself off. You don't necessarily have to drain it right away if the tank fills up thanks to the inclusion of a gravity-fed drain hose outlet. This keeps water moving out of the unit.
Eva-Dry E-333 Renewable Mini Dehumidifier
The completely renewable desiccant dehumidifier from Eva-Dry promises a 10-year lifespan. It's called the E-333 because it's designed to suck up condensation from spaces that are 333 cubic feet.
Cord-free and battery-free, the E-333 has a renewable cycle that can run for 20 or even 30 days. It's completely toxic-free and designed to reduce messes if you have pets or children onboard your RV. Eva-Dry built the E-333 to lock in moisture in its interior beads until you can start the renewal cycle again.
Also inside the unit are color-changing crystals. Keep an eye on these, as they tell you how much water the E-333 contains. The crystals will start out orange and become green as the dehumidifier begins working.
Once it reaches six ounces of liquid, the Eva-Dry dehumidifier needs to be moved elsewhere to charge over 10 hours. If the crystals are orange again, then the E-333 is ready to use once more!
InvisiPure HydroWave Dehumidifier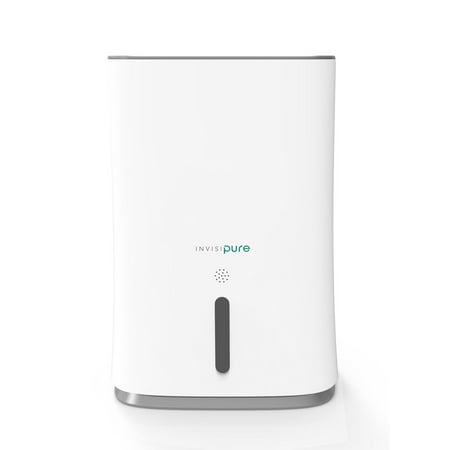 Another small dehumidifier worth considering for your RV is the InvisiPure HydroWave. How small are we talking? This dehumidifier weighs less than six pounds and measures 9.8 by 6.1 by 13.9 inches. It also runs on 120 volts.
The HydroWave has an extraction rating of 800 milliliters daily at 80 percent relative humidity. It too comes with Peltier dehumidification technology. Once the tank fills up, InvisiPure's dehumidifier will turn itself off. The tank comes out fast so you can dump the water. If you want, you can even connect a 3/8-inch hose to the HydroWave to filter out water as it accumulates in the tank.
Keystone 70-Pint Dehumidifier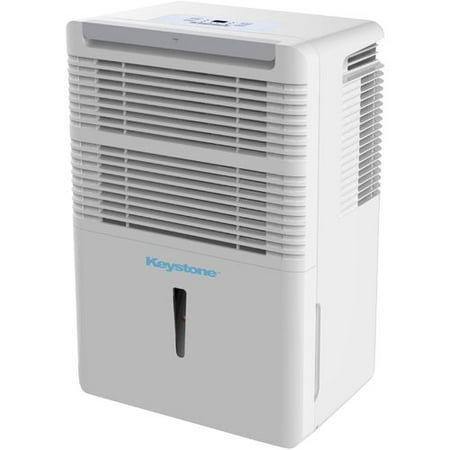 As the name tells you, Keystone's dehumidifier is designed to hold lots of water, 70 pints daily. It works best in bigger environments that are 4,500 square feet. If you're concerned about emptying 70 pints of water, try the continuous draining option. This requires a garden hose but will start filtering water out before the tank gets completely full.
When the tank does fill up, the dehumidifier will turn off on its own. You'll also get a full bucket alert.
The Keystone has four casters that are omnidirectional so you can move the dehumidifier where it's needed most. With an included LED display, it's easy to choose the level of humidity you want in your vehicle. You also get several settings, including Auto-Defrost, Turbo, and Normal. If you want to adjust to a certain humidity but your power goes out, you'll appreciate the Auto-Restart function. This retains your settings.
What You Need to Know Before Buying an RV Dehumidifier
If you're buying your first RV dehumidifier, all the new terminology being thrown at you can be very confusing. This short Q&A can fill in the gaps in your knowledge so you can make an educated buying decision.
What's a Refrigerant Dehumidifier?
If you fear a widespread mold problem in your RV, you'll want to use a refrigerant dehumidifier. This can control the condensation in your whole vehicle.
A refrigerant dehumidifier is typically the less expensive of the two types. While it uses less power compared to desiccant dehumidifiers, it tends to contain more components and parts. It also weighs more and is quite noisy. If the temperatures drop below 40 degrees Fahrenheit in your RV, your refrigerant dehumidifier might not work as well as it would in higher temperatures.
What's a Desiccant Dehumidifier?
Then there are desiccant dehumidifiers. These can be recharged for use again and again. Unlike refrigerant dehumidifiers, they're only meant to reduce condensation in small areas, not the whole RV. If you're set on using a desiccant dehumidifier, then you'd need to buy several to prevent mold and mildew from getting in all parts of your vehicle.
While desiccant dehumidifiers are lightweight, they use a lot of power. They're also far pricier than refrigerant dehumidifiers. For the higher price, you'll get a unit that makes less noise. It also can handle colder temperatures that dip into the 30s.
What Is an Extraction Rate and What Does It Mean?
As you begin shopping for dehumidifiers for your RV, whether online or in a store, you're going to see a term called the extraction rate. What exactly does this mean?
An extraction rate refers to how much water the RV dehumidifier will remove daily. Unfortunately, extraction rates are tough to measure. That's because manufacturers go by different parameters when determining their respective extraction rates. Some brands focus more on relative humidity and how much that drops while others track the temperature. That may mean seeing wildly fluctuating extraction rates.
When you compare different RV dehumidifiers, be smart. Know that while extraction rates are important, they aren't the be-all, end-all to how well your dehumidifier will work.
We hope this guide made choosing an RV dehumidifier easier. Good luck!