Riding motorcycles is a pastime that can fill your every waking thought. The workweek can't go fast enough when your mind's on the open road. If you know someone who loves to spend their spare time blazing down the highways on their motorcycle, then this list of gifts is for you. Find something for that special someone or friend and connect your generosity to their passion. You'll be remembered for your thoughtfulness, and they'll be thrilled with their perfectly chosen surprise. This carefully curated list has something for ever price range and every occasion.
1. Motorcycle Bottle Opener
This antiqued and heavyweight bottle opener is gorgeously detailed. A fierce motorcycle is the handle of the opener, and the casting work is so precise you can see the flames on the gas tank and the studs on the saddlebags. This is a solid piece that feels elegant in hand. It comes in a super gift box and will make a real statement when whipped out of a saddlebag to open a cold soda, or picked up off of the bar to open a beer. It measures 5" in total length by 2" in height.
Click here for this cool piece on Amazon.
2. Gear Chain Ashtray or Key Holder With Motorcycle Design
This gnarly piece makes you think it's made out of solid steel, but it's cast out of a lightweight resin. The cast design features a gear chain around the perimeter and a cast wrench resting on the side. In the interior is the stamped design of a motorcycle. There are divets on each side for a cigarette, but if you're gifting a non-smoker, it could easily just be a cool decorative piece to hold keys by the door.
Click here to see this on Amazon.
3. Motorcycle Pen Holder For The Desktop
Have a friend stuck in the office that would rather be out riding their bike? This is a cool gift for someone that needs a minute to daydream during the day. The wheels even roll if you need to vroom, vroom it across the desk. Holds a handful of pens or pencils and is a fun statement piece. It is made out of solid iron.
Click here to see this on Amazon.
4. Motorcycle Night Light
This is an energy-efficient LED night light with a fantastic motorcycle design. It's dusk to dawn feature means it lights up when you need it. It's kid-safe as it doesn't get hot to the touch and stays cool. Put it in the top plug to keep the lower outlet usable or plug it into the bottom plug to cover up the entire outlet. There are so many options for this fun and brilliant gift.
Click here to see this on Amazon.
5. Cast Iron Motorcycle Coat Rack
Here's a great find with vintage appeal. This cast iron coat hook features two arched hooks for coats, sweaters, hats, leashes, or keys. But the best part for your motorcycle loving gift-recipient is the motorcycle design. Use in the house or the garage or even the office. The hooks extend out 2", which provides ample space to hang a winter coat or two. The overall size of the frame is 8" long x 6.75" tall.
Click here to see this rack on Amazon.
6. The Bikeriders Coffee Table Book
This was first published in 1968 but is back in print and chronicles the Chicago Outlaws Motorcycle Club. Filled with interviews and black and white photography, this book is a cool gift and an educational opportunity in one. Available in hardcover only.
Click here to see this on Amazon.
7. 3-D Motorcycle Night Light
This awesome night light looks like a floating 3-D motorcycle. In actuality, it's a plate glass technology that has a visual effect that plays tricks on your eyes. It has a USB or power cable and has seven different color choices to play with and one flashing mode should you want that. This is like Star Trek come to life in the form of a motorcycle beamed up into your bedroom.
Click here to see this on Amazon.
8. Motorcycle And America Wall Clock
Their passion and patriotism all in one useful gift. This circular wall clock is a great gift for the motorcycle lover who also values their freedom and the symbols of it. The clock is 12" in diameter, takes one AA battery, and has quartz movement.
Click here to see this on Amazon.
9. Metal Motorcycle Sculpture
A fantastic piece of artwork, this mini motorcycle is made out of scrap metal with meticulously welded parts. The wheels roll, and the handlebar shifts from right to left, even the kickstand works. This is 100% handmade, and it shows. A unique gift for someone that loves quality surprises. Overall size is approx 10" x 5" x 6". Finished in a soft copper patina paint.
Click here for this on Amazon.
10. Just Braap It Journal
Want to give a gift to someone who writes or needs to take notes, yet still, shows off their inner wild child? This lined notebook features a cool dirt bike on the front with the slogan "just braaap it". One hundred ten pages of blank lined paper give plenty of space for race notes, motorcycle poems, or simple to-do lists. It is a perfect stocking stuffer or extra little something.
Click here for this on Amazon.
11. Motocross Comforter
This microfiber quilt with polyfill is a cool twist on bedding. Motorcycle tracks frame the graphic squares that each hold a slogan and image that will make your biking pal happy to cuddle up at night. Use on a bed or as a throw, this quilt is available in twin, queen, king, super king, full, and throw sizes. It's machine-washable and awesome.
Click here to see this on Amazon.
12. Motocross Shower Curtain
This shower curtain manages to be sophisticated and theme-specific all at the same time. The bold black, white, and grey graphics give no doubt as to what the person behind the curtain loves. It features a half-tone wheel as the background and a bold motocross rider jumping in from the edge of the curtain. It's a standard size 69 x 75" long but is also available in 70" and 84" lengths. It's washable and non-fading and environmentally friendly.
Click here to see this on Amazon.
13. Vintage Harley-Davidson Patent Prints
You're sure to impress with this gift of four vintage Harley-Davidson prints. These are reproduction 8' x 10" photos of the original patent for the 1925 Harley Davidson. These are glossy, 100-year archival paper prints that will look super in any office or home setting. The standard photo size makes it easy to find frames as well.
Click here for these prints on Amazon.
14. Bluetooth Motorcycle Intercom System
Ride with a friend? Want a cool gift that will keep you both in touch when headed down the highway? Then this Bluetooth enabled intercom system is a solid choice. This helmet headphone is waterproof, noise-reducing, and can be used with up to 8 riders (each must have their own headphone). It's easy to operate while riding with its large buttons design.
Click here to see this on Amazon.
15. Motorcycle Quartz Desk Clock
This is an exquisite gift for the suit by day, leather jacket by night motorcycle riding executive. A cast motorcycle in heavy-duty plastic features a quartz clock in the front tire. Finished in a brass look, this clock is lightweight yet looks solid. Works on a AA battery (not included) and is a nice size at 8.46 x 4.5 x 2". The alarm feature comes in handy when you need to set your timer to get to a meeting.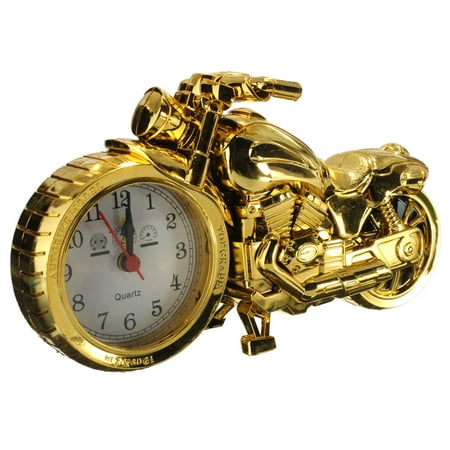 Click here to see this at Walmart.com.
16. 3-Piece Canvas Motorcycle Art Piece
Here's a fantastic triptych for the living room or man cave wall. Stretched on a real canvas, these prints are large at 16" x 24" and will command your wall space. They feature the sleek chrome of a motorcycle's tailpipes and back wheel in elegant black and white photography. This is a super unique and special gift for the rider in your life.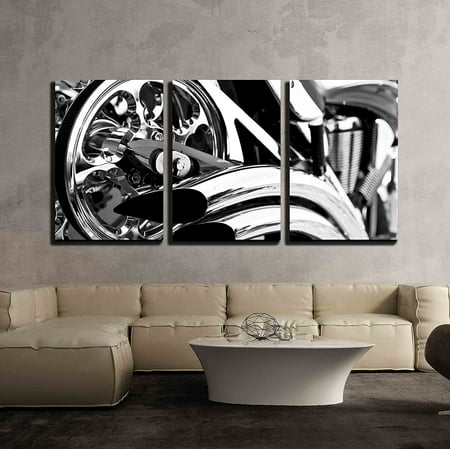 Click here to see these at Walmart.com.
17. Dog And BMW Motorcycle Wall Print: The Fast And The Furriest
The name enough is sure to make this wall print a hit. The Fast And The Furriest features a wild and free chopper riding hound dog, ears blowing in the wind, his trusty kitty friend on his shoulders, and his BMW motorcycle beneath him.
Originally painted by Connie R. Townshend, this is a canvas printed reproduction. It's available in two sizes: 24" x 16" or 36" x 24".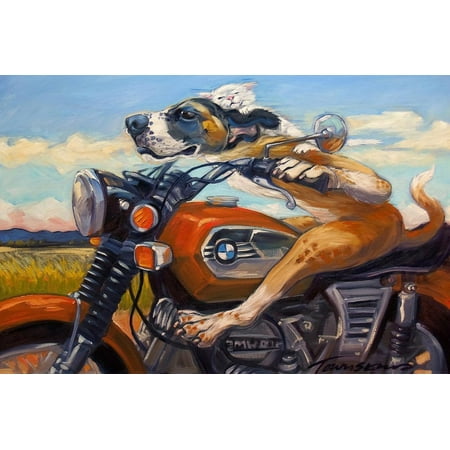 Click here to see this at Walmart.com.
As you can see, we found a little of everything for the motorcycle lover in your life. From small gifts like notebooks and bottle openers to fancy Bluetooth intercoms, there's a gift for whatever you need. If you enjoyed this list, please check out these other great finds at VEHQ.com below:
24 Pickup Truck Key Chains That Make Perfect Gifts for Fans
12 Gorgeous Women's Motorcycle Half Helmets (Inc. With Visor)