Do you have a boyfriend that loves riding a motorcycle? If you do, it makes gift-giving so much easier. There are dozens of dozens of great gadgets and accessories if your budget can't afford a new Harley-Davidson. And he'll be so impressed that you took the time to gift him with something he is interested in. Whether you pick out a motorcycle themed hoodie or an excellent sign for the garage, these gifts are sure to spark your imagination and bring a smile to his face. So let's look at some of these gift ideas for your motorcycle man.
1. Motorcycle Folding Knife
Here is a true beauty and a classic gift. This pocket knife is 4" in length when closed and of nice quality heavy stainless steel. The design features a beautiful motorcycle as the handle. The casting has excellent clarity, and you can make out so many small details on the bike. This is a gift that will speak to his heart and his passion.
Click here to see this knife on Amazon.
2. Motorcycle Bottle Opener
Does your guy like a cold brew after a long day on his bike? Present him with this classy bottle opener, and he'll be drinking in style. It has a bronzed antique look and features a low slung bike incredible details, including flames and saddlebags. The opener is packaged in a great gift box and is heavyweight for durability and quality. It's approx. 5" x 2" in size. Set it on the bar, and everyone will want to know where he got it.
Click here for this cool gift on Amazon.
3. Motorcycle Wind Chime
There's nothing that says love like the sweet chime of music outside the garage. If your guy has a spot he likes to hang out after a day working on his bikes, class it up a bit with this motorcycle themed wind chime. It can be hung indoors or outdoors and is made of glass, steel, and aluminum. The top features a cool bike, then wind chimes finished with matching red beads, and a replica of a wheel functions as the ballast to hold it all down.
Click here for this unique gift on Amazon.
4. Ride Free Sign
We all know getting out in the fresh air on a winding mountain road is better than therapy. That's why this sign has the message "Ride Free! You'll never see a bike outside a shrink's office." Is your boyfriend a motorcycle riding therapist? Then make him laugh and give him this decorative declaration. It's a great size at 16" in width and 12.5" in height. Perfect for an office, the workshop, or his man cave.
Click here to see this on Amazon.
5. Harley Davidson Pullover Hoodie
This is one hoodie he might not let you steal. This classic black hoodie with drawstring cord is decorated with the famous Harley-Davidson logo from the Wisconsin showroom. The name is written in block letters down each sleeve, and it has a full-size graphic with the Harley-Davidson skull graphic and eagle wings on the back. The hoodie has a kangaroo pocket in front and is made of a 50/50 poly and cotton blend. It's machine-washable and needs no ironing for easy wear and care. Available in plus sizes as well as regular sizes.
Click here to see this on Amazon.
6. Drive Safe Keychain
Tell him you care with this thoughtful keychain. He loves motorcycles, but you love him, and you want him to enjoy his passion but be aware of the dangers. This stainless steel and scratch-resistant keychain is silver in tone, comes in a great gift box, and has a great sentiment: "Drive Safe. I need you here with me," and a heart. Now stick a key to a new motorcycle on it, and you'll be his forever.
Click here for this gift on Amazon.
7.
Bell Rogue Half-Size Motorcycle Helmet
Is your guy into dirt bikes and motocross? Here's a super cool graphic Tshirt that would make a fantastic gift. Graffiti style paint drips are topped with a silhouette of a rider on a motocross bike with the slogan "Braap!" across the top. This shirt is available as seen, but also in red, green, and grey. It's made from a soft and smooth lightweight spandex that dries fast and fits great. Because these shirts are Asian sizing, it is recommended you order two sizes up from your boyfriend's regular size (if he's not Asian).
Click here to see this on Amazon.
8. Free Rider Sexy Kitchen Apron
This hysterical apron is perfect for the motorcycle man with a sense of humor and a love for the grill or the kitchen. A buff tattooed body peeks out from under a black leather vest and sits atop a skull emblazoned bike. Flames shoot up behind the silhouette. This apron will not only be a functional gift but great for photo opportunities as well. It's made of 100% polyester, has no fade, and anti-spot technology. He'll love it, and you'll enjoy his laughter when he unwraps this gift.
Click here to see this on Amazon.
9. Some Need Therapy T-Shirt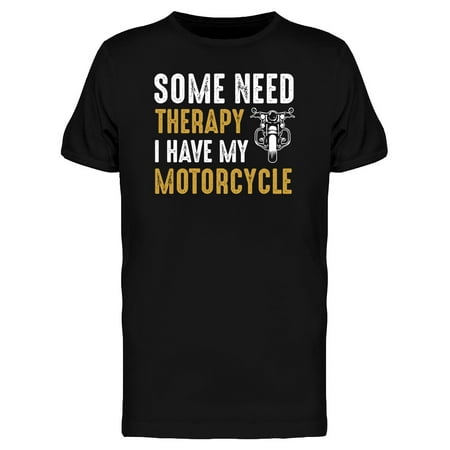 Here's another take on the motorcycle as a therapy mindset. This one has a bold declaration that says, "Some Need Therapy, I Have My Motorcycle." Next to the words is a graphic silhouette of a bike. This Tshirt runs true to size and comes in standard sizes as well as plus sizes. It's 100% cotton so it will get softer and more comfortable with wear. It's an excellent gift for an event or just because you love him.
Click here to see this at Walmart.com.
10. Outlaw T68 'The O.G.' Flat Black Motorcycle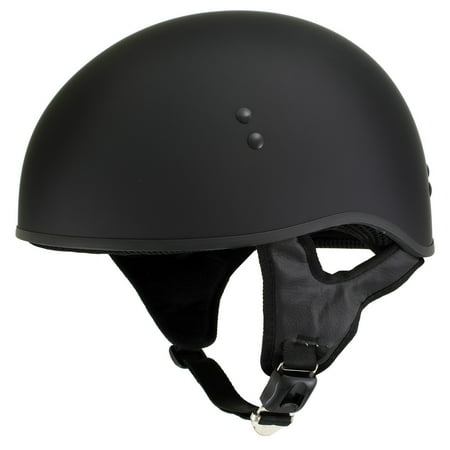 Featuring an impact absorbent multi-density EPS liner and thermo-polymer alloy shell construction, the 'O.G.' Outlaw Skull Cap Helmet brings comfort without sacrificing safety. With a raw and masculine vibe, it's the perfect match for your man's bike.
Click here to see this gift on Walmart.com.
If you liked this great gift list here at VEHQ.com, please check out these others below:
8 Awesome Motorcycle Helmets With Bluetooth