Is there a Mustang fan in your life? We have some awesome gift ideas geared specifically for Mustang lovers!
The Mustang is perhaps the most iconic of all American vehicles. From its beginnings in the 1960s all the way up to its current configuration, it's a car that inspires loyalty. Mustang people gather for rallies, trade stories about the cars that were, and show off the ones they have restored it's so fun to gift shop for a Mustang aficionado. You know what they love, which helps make your search that much easier. We've found a collection of sixteen gifts sure to please any Mustang lover on your list, and all are available to order easily online.
1. Mustang Inspired Boombox
This portable Bluetooth speaker is made to look like a classic '65 Mustang's radio. The tuning knobs for the FM/AM radio have retro speedometer styling. Charges with a USB cable or power adapter and features easy-connect Bluetooth to pair with your favorite device. This is a great little player for the garage or the car rally.
Click here to see this awesome gift idea on Amazon.
2. Classic Mustang Tin Sign
This is a really cool tin sign that reproduces an old Ford Mustang advertisement. It has pre-drilled holes and rolled edges for easy hanging and safety. It features a classic Mustang convertible superimposed over the Mustang emblem. What a great piece of wall decor for the huge Mustang lover in your life. It's a great size at 16" x 12.5" to fit in all sorts of spots.
Click here to see this on Amazon.
3. Mustang Bi-Fold Wallet
You know they spend all their money on their car habit, so why not give them a wallet that speaks the truth. This wallet measures 4.0x3.5x0.5 inches and features the standard billfold, five card slots, and a windowed ID holder. It's made of vegan leather, and it's licensed by Ford. The maker uses an advanced printing technology that ensures years of use without fading.
Click here to see this on Amazon.
4. History Of The Mustang Wall Clock
This clock takes you back through the years of the Mustang, with each hour representing a different year's model. This sound clock gives you the roar of a Mustang's engine at the top of each hour. A light sensor deactivates the noise when the room is dark, so you don't need to worry about it waking you up. Pretty cool, right? It takes 3 AA batteries and is about 13" in diameter.
Click here to see this wall clock on Amazon.
5. Heavy-Duty Chrome Mustang Key Chain
This 3D heavyweight key chain is the perfect gift to either accompany a key to the new car, or to give to someone who just bought a new, or new to them, Mustang. It's made of durable chrome-plated metal alloy and comes with a 1 1/2" keyring.
Click here to see this perfect gift on Amazon.
6. Neon Mustang Light
You will win multiple brownie points if you wrap up this beauty for your favorite Mustang fan. This neon light sign hangs from a chain and is illuminated within a piece of glass. It plugs into a standard outlet. Size is about 8" x 12". This would be super for any wall.
Click here to see this on Amazon.
7. Mustang Cobra T-Shirt
This shirt honors one of the baddest Mustang models there is—the 1968 Mustang 428 Cobra Jet. This poly-cotton blend T-shirt has a retro feel and vintage look that will be a favorite in your gift recipient's closet. It's available in all of the regular sizes as well as plus sizes. Colors look as they are represented in the photo.
Click here to see this on Amazon.
8. Ford Mustang Evolution 1000 Piece Puzzle
Are the roads icy and your favorite Mustang driver can't get out to play in their car? Well, how about this great puzzle to relieve the boredom. The 1000 piece puzzle comes together to reveal a historical image of Mustangs from the beginning with 29 different models in all different colors. The finished puzzle size is 19.25" x 26.5". Once put together, why not glue it to a board and frame it? It's just that cool.
Click here to see this puzzle on Amazon.
9. Mustang Highway Sign
Here's a fun surprise for your Mustang crazed car friend: an embossed sign in the shape of a shield. It has pre-drilled holes for super easy hanging, and the phrase "Mustang Highway" with the iconic Mustang logo will look smashing on the wall of any man cave, garage, or teen's room. You've probably already figured out exactly who this gift will be perfect for.
Click here to see this on Amazon.
10. Vintage Album Mustang Wall Clock
This clock is pure ingenuity. Crafted from an old 33rpm album, this clock is repurposed, recycled, and revved up. The Ford Mustang logo is cut out of the top, and a silhouette of a Mustang and the waves of the road complete the image. In the center is an analog clock that runs from 1 AA battery. The old album is 12" in diameter.
Click here to see this on Amazon.
11. Grip Fender Cover With Mustang Logo
Here's a super gift for the car restorer in your life. This grippy fender cover drapes over the edge of the car, protecting it from any dings from tools, belt buckles, or the like. It's a heavy-duty material and measures 22" x 34". It's non-reactive to all engine fluids, so the user doesn't have to worry about spills, and those fluids won't leak through. It's washable and an official licensed logo product. The Mustang logo on this one is unique, with yellow and orange flames covering a black Mustang body.
Click here to see this on Amazon.
12. Mustang Stainless Steel Travel Tumbler
The last thing anyone wants to do is spill any sort of liquid inside of a pristine restored Ford Mustang. That's what makes this travel tumbler a perfect gift. In fact, why not gift two of them, so the passenger and the driver are prepared. This tumbler is in black with the Ford Mustang logo in silver to match the stainless steel rim. It has a press-on lid with a sliding drinking opening. It fits in most cup holders and holds 14 oz. of liquids.
Click here to see this on Amazon.
13. Ford Mustang History Coffee Table Book
Here is the definitive history of the Ford Mustang in images. With over 400 individual photos from historic and media archives, this is a book that should occupy the shelf of every Mustang lover. It's written by acclaimed Mustang writer, Donald Farr and was created in cooperation with the Ford Motor Company.
Click here to see this book on Amazon.
14. Mustang Evolution Poster Print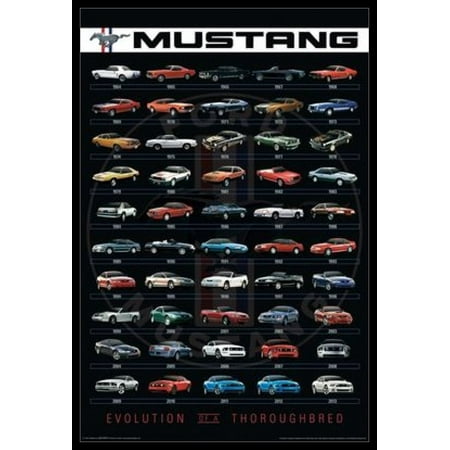 This stunning poster compiles a visual history of the lineage of Ford Mustang cars. The poster is 24" x 36" and is available unframed, framed, or laminated. Fifty different models are printed on the poster, with each car's year marked below it. At the bottom, it says, "Evolution of a Thoroughbred."
Click here to see this poster at Walmart.com.
15. Ford Mustang Boss Lighted Canvas Wall Art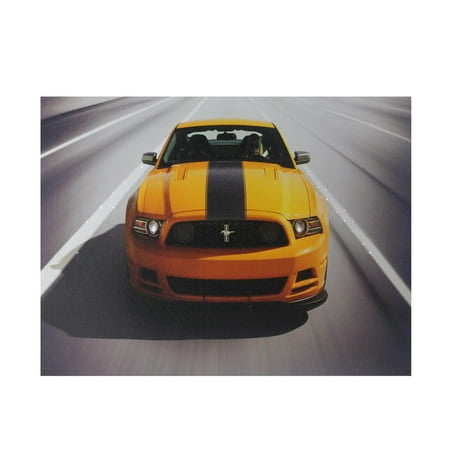 This piece of wall art is super unique. It features the imagery of a 2013 Ford Mustang Boss 302 model. Fiber optic lights installed behind the canvas light up the headlights, the running lights, and the highway stripes. It requires 2 AA batteries and has an on/off switch if you'd rather not have the lights on. The overall size is 12"H x 15.75"W x .75"L. This sporty yellow Mustang is sure to light up someone's life.
Click here to see this on Walmart.com.
16. Mustang Embossed Circular Sign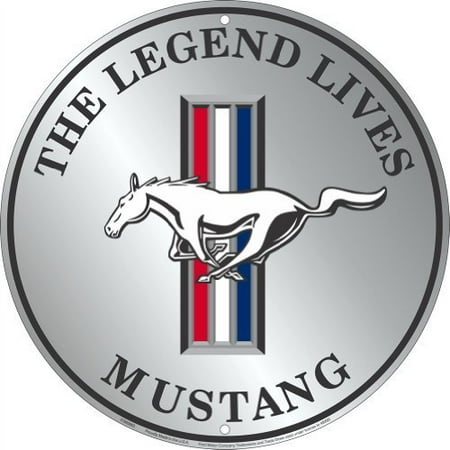 This is a nice 12" diameter tin sign. It features the classic Mustang logo on a silver background. Across the top, it says "The Legend Lives" and "Mustang" on the bottom. Great for a rec room, garage, bedroom, or office. This gift will be sure to put a smile on your favorite muscle car friend's face.
Click here to see this on Walmart.com.
There's a little bit of everything on this list, but for the Mustang fan, anything you choose that recognizes their passion is a winning gift. Have a great time selecting that perfect item.
If you enjoyed this post here at VEHQ.com, then check out these others we think you may enjoy:
10 Ford Mustang Blankets That Fans Would LOVE